Cat6 Patch Cables Shielded Low Smoke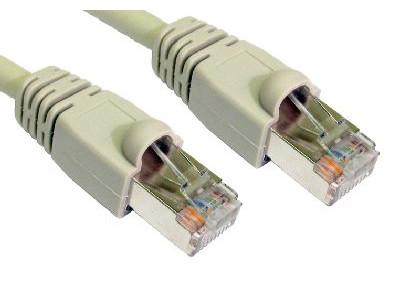 Alternate views:
Product Code:
Find your Product
Cat6 Shielded Low Smoke Patch Cables
Cat6 cable is successor of Cat5e cable with improvements in speed and frequency.
Cat 6 Shielded cables increase signal isolation and prevent contaminant noise from entering the cabling system.
Low Smoke Zero Halogen cables (LSZH cables) do not generate dangerous combination of gas and acids or was toxic in case of fire.
Available for next day delivery in 6 colours, from 0.5m up to 10mtr.
Cat6 shielded LSZH cable is also available in 305 mtr.
Order Cat6 Shielded LSZH Patch Cables before 4pm for next day courier delivery!
Our high quality Cat 6 FTP - LSZH patch cables are available in Grey, Yellow, Red, Blue, Green and Black and from 0.5 mtr up to 10 mtr lengths.
Cat6 FTP Shielded is also available in 305 mtr
Cat 6 Foil Twisted Pair Low Smoke Zero Halogen patch cables (also known as the acronym LSOH or LS0H or LSZH cables) are recommended to be used to provide added security in case of fire as the fumes generated from low smoke cables are less harmful than non Low Smoke outer sheaths.
Cat6 Shielded cables are made by a metallic shield that enclosing the entire cable to reduce electromagnetic interference: the 4 pairs of the cat6 cable are wrapped by a sheet of conductive material that act as a shield for electromagnetic waves
Cat5e shielded LSZH cables also feature snagless boots that cover the RJ45 plug preventing possible damage during installation and help stop the boot latch from snagging on other cables and networking equipment
The RJ45 plugs are industry standard 8pin connectors.
Cat 6 FTP - LSOH cables meet all the TIA and Industry standard specifications.
Custom made Cat6 Shielded Low Smoke cables
If you require Cat6 Shielded Low Smoke patch cables in any other lengths, please visit our Custom Cable page or Contact us


CAT6 SHIELDED LOW SMOKE PATCH CABLES SPECIFICATION
Category 6 cable
FTP (Foil Twisted Pair) shielded cable
LSZH (Low Smoke Zero Halogen) cable
Snagless Boot
26AWG X 4PR
ISO/IEC 11801 AND TIA/EIA 568B.2-1
Related Items